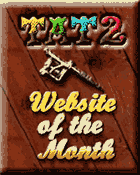 Get your Web Site Featured

Submit your Web site and Tat2 Net will review your site and if it's
approved you will be added to the Hot Site Listing Directory and will be contacted
with code to display your award on your page. You can also place link code so that
your visitors can click to vote for your site in the TOP 10 Hot Sites List. Top 10
websites are featured in the Top 10 jump menu. Once a month we will select the Web
Site of the Month from new submissions and feature a Photo Gallery Display and links.